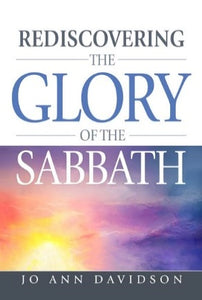 "The Bible is its own interpreter. With beautiful simplicity one portion connects itself with the truth of another portion, until the whole Bible is blended in one harmonious whole. Light flashes forth from one text to illuminate some portion of the Word that has seemed more obscure." ~ Ellen G. White, Our High Calling, 207
Seventh-day Adventists have rightly focused on which day is the biblical Sabbath. However, there is a lot more to discover about the true Sabbath than just knowing the correct day. Its glorious nature needs to be restored!
This study begins as Genesis opens and examines the Sabbath through all sixty-five canonical books. Through the Bible's stories, its praise and promises, its commands and corrections, from the Creation story of the Old Testament through the closing scenes of Revelation, the Sabbath is emphasized and celebrated.
Discover the truth about which day is holy, when the Sabbath started, and whether it has been lost in the mist of history. Along the way you'll find answers to important questions, such as: How is the Sabbath related to salvation? and Is keeping it required to be saved? Equally important, learn what the Bible says about the Lord of the Sabbath and how He can help you celebrate this most precious gift.