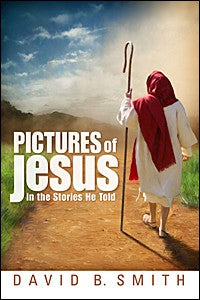 Quick Overview
Everyone loves a good story!
Even in today's media-crazed world, we appreciate a well-told story.  Among the best-loved stories in Scripture are the parables of Jesus: the sheep and the goats, the lost coin, the wedding feast.  Through these and others, Jesus introduced His Kingdom – a new order in which evil is defeated, brokenness is healed, and love prevails – in ways that His followers could understand.  These vibrant accounts of daily activities made His Kingdom accessible to all who would listen. Using vivid illustrations, David B. Smith retells many of these narratives. With titles such as "Buying a Farm from Jed Clampett," "Year-End Report of the Ten Mutual Funds," "The Girls Who Missed the Wedding," Smith unwraps Jesus' simple stories.  Woven from the stuff of everyday life, Jesus' parables become windows into God's heart and mind.
"As we read these stories by Jesus, we discover that God's people are here to bring healing to the sick, food to the hungry, and hope to the discouraged.  We're here to demonstrate to the world that the Sermon on the Mount is a formula that works." In other words, we're to live as citizens of His Kingdom – now.
Through Pictures of Jesus, you will glean deeper insights into the stories Jesus told, and will come to know in a refreshing new way the One who told them.