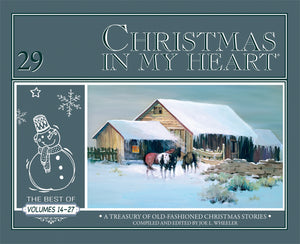 Little did the young boy know all those years ago when he listened to his mother recite or tell emotional Christmas stories that he would eventually send a publisher a collection of his favorite Christmas stories.
Back in 1992, a college professor, Dr. Joe L. Wheeler, was blindsided by a manuscript of tear- jerking Christmas stories he submitted, upon request, to a publishing house. He had no way of knowing that the simple little 128-page books would refuse to die and become (over the next 29 years) the longest-running Christmas story series in America.
A traumatic brain injury resulting from a stairway fall brings the series to a halt—but not before about a million Christmas books were ensconced in homes and libraries around the world. Book 28 features some of the most beloved stories from books 1–13, and book 29 does the same with stories included from books 14–27. In each case, Dr. Wheeler shares the story behind the story–why these finalist stories were chosen for inclusion.