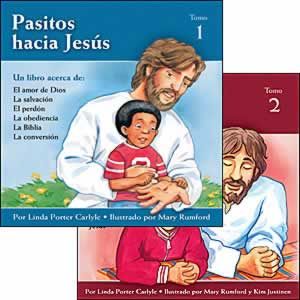 Miles de adultos han llegado a conocer a Jesús a través del libro El camino a Cristo. Ahora los niños pequeños pueden aprender las mismas verdades mediante historias basadas en los temas que Elena de White escogió para su libro clásico. Considere este juego de dos tomos como una introducción a la vida cristiana para niños de cuatro a siete años de edad. Una vez fundamentados en estas creencias básicas, sus hijos y nietos pueden iniciar una amistad con Jesús que durará toda la vida. 
Childs Steps to Jesus 2V (Spanish) 
A wonderful two-volume set in Spanish for the preschool age child.  Stories based on the book Steps to Christ will help them get acquainted with Jesus and the basic beliefs of the Seventh-day Adventist church.