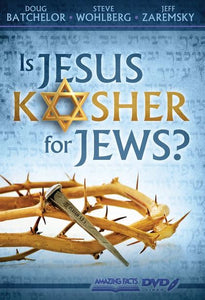 Quick Overview
or Jewish people, the name Jesus is often associated with supposed Christians who have persecuted and marginalized them throughout history. "No, thank you!" has been their understandable reaction. But is it possible that every one has been neglecting the Jewishness of Jesus for 2,000 years?

After all, Jesus was a Jew!

Are Jesus and Judaism compatible? In this fascinating three-part series, three Jews—Doug Batchelor, Steve Wohlberg, and Jeff Zaremsky—discuss this controversial topic while sharing their remarkable personal journeys of faith. What they discovered is life-changing and worthy of your consideration.

Examine the evidence. Don't worry—it's kosher!
Product Details:
| | |
| --- | --- |
| Author: Doug Batchelor, etc | Runtime: Approx. 2 Hours |
| Publisher: Amazing Facts | Format: DVD |
| Publication Date: April 2016 | ISBN: 9-781-58019-640-6 |
No subtitles available. English only.