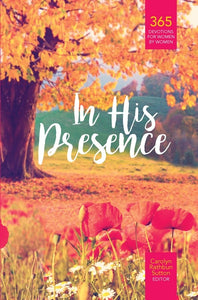 Quick Overview
When life's uncertainties overwhelm us, we may momentarily forget that an unshakeable refuge is always close by. From it flows only good things. That refuge is Jesus. When we keep our eyes on Him, He will guide us through life's darkest days and nights. He, who is head-over-heels in love with us, wants us to understand that He is always by our side and constantly provides for our needs.
Furthermore, Jesus promises never to abandon us as He leads us toward brighter days ahead. Along the journey, He will teach us how to live like He did. Then, as with the apostles of old, others around us will be able to tell where we have been spending our time-with Him.
So be blessed as you walk through these inspirational stories written by women who have rediscovered an ever-present Friend—and love like they've never known. Experience their joy and unspeakable delight as they're surprised by the evidence that the One who loves them best is always near. In 365 different ways, the confident voices of God's daughters around the world declare, "I will not be shaken for I am living in His presence."
Women Helping Women
All proceeds will support Adventist higher education for women in the North American Division.