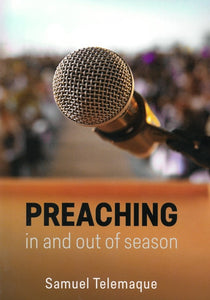 Quick Overview
Note: This pad is designed to be removed from the protective cover and individual pages removed for ease of use as sermon outlines at the pulpit. 
Some pads may be lightly glued to the protective sheet. Simply apply a little pressure and the pad will break free.
This file of sermons has been prepared by Pastor Telemaque with the support of the Caribbean Union and Inter-American Division.
Pastor Samuel Telemaque, the Lay Activities and Sabbath School Director for the Caribbean Union, is an enthusiastic pastor, a man of God, and a successful modern evangelist. For years, he has been preaching salvation in Jesus Christ, and as a result of his proclamation, hundreds of souls have been taken to the loving arms of Jesus Christ, the Redeemer of humanity.
Having the desire to see many more lost people come to Jesus and accept Him as their personal Savior, Pastor Telemaque has prepared this set of sermons, which can be used by those who feel the call to share their faith. Being a man who believes in the ministry of the laity in the evangelism and wining of souls, he prepared these sermons, having in mind the premise presented by Ellen White, which reads as follows: 'Let ministers and lay members go forth into the ripening fields. They will find their harvest wherever they proclaim the forgotten truths of the Bible. They will find those who will accept the truth, and who will devote their lives to winning souls to Christ' (Ellen G. White, Christian Service, p. 67).
It is our hope and prayer that this file of sermons be a powerful tool in the hands of preachers to lead souls to the eternal kingdom of glory.
An outline, which is not a full sermon, gives you the freedom to use and expand as the Holy Spirit leads you in preparation. Such freedom gives opportunity to be acutely sensitive to the cultural and local circumstances of those who are privileged to listen to the Word of God through you. This book was designed as just that, an outline of sermons. You can remove the book from its cover and use it at the pulpit. Each outline has steps, punchlines, and illustrations to help you deliver the message.
May the Lord bless the messages written on these pages in such a way that thousands of lost people can find the way, which leads to our Savior and Redeemer, Jesus Christ.
160 Pages