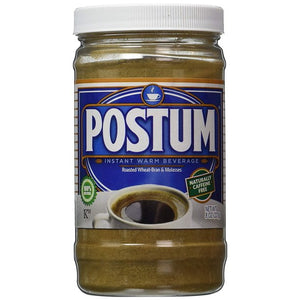 Quick Overview
ORGANIC RICH FLAVORED COFFEE ALTERNATIVE - This caffeine free coffee alternative is rich in flavor from custom-roasted wheat bran and sweet molasses. The only difference is that this organic coffee substitute contains a natural coffee flavor for those who like the rich aroma and robust flavor of a freshly brewed cup of coffee. Roasted wheat bran, wheat and molasses is all it is made of. These simple, natural ingredients are all we need to produce our signature, full-bodied, smooth flavor.

SMOOTH, TOASTED, WHOLESOME FLAVOR & AROMA - This warm, comforting classic is the same as the original Postum. With its natural coffee flavor, we added this new coffee-flavored version to our shelves. This coffee replacement still has that wholesome, smooth, toasted flavor you love, along with a rich aroma to satisfy coffee lovers. Postum prides itself on its quality of taste. These rich tastes can also be customized with milk, sugar, artificial sweetener or Kahlua, as well as others.

HEALTHY, ORGANIC INSTANT COFFEE SUBSTITUTE - Ideal for those with dietary, health or religious restrictions, this alternative coffee combines skillfully roasted wheat with hearty molasses for a unique savory beverage. 1-2 teaspoons is only 10 calories (no fat) and this drink is naturally caffeine free and smooth tasting with no acidity or bitterness, this tasty instant coffee substitute won't cause sleepless nights, high blood pressure or digestive upsets so you can enjoy it all day long.

CAFFEINE FREE, ALL THE FLAVOR, NO PRESERVATIVES - Free from tannic acid that's found in coffee, this beverage can be enjoyed hot or cold. Not only organic, this coffee substitute is also non-GMO verified, vegan, kosher, chicory free and has no caffeine, with 100% natural ingredients. It is free of sodium and genetically modified foods. Composed of all the makings of a premium coffee substitute, Postum's wheat bran and molasses beverage supports healthy living, whilst satisfying the taste buds.

ALL TIME FAVORITE ANYTIME BEVERAGE - Keeping to their original 1895 recipe, Postum have maintained a wholesome approach to coffee alternatives from a simpler time. This is a classic coffee replacement you can feel good about. Just one teaspoon of Postum mixed into 8 ounces of hot or cold water is all it takes to enjoy America's all-time favorite. This 8 ounce jar makes approximately 75 cups of instant, organic, caffeine free beverages.