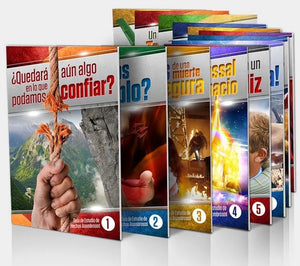 Overview:
THIS SET IS IN SPANISH AND IS THE SAME AS THE ENGLISH SET OF 1 - 14.
You won't find a better series of Bible lessons for personal study or in a group study setting. These can be shared as topical studies one at a time or as part of an overall outreach effort, leading people to truth of the last-day message! Amazing Facts Studies Guides are very popular with churches and have helped thousands discover Bible truth, and each are designed to point seekers to the Savior!

Titles include:

Is there Anything Left You Can Trust?
Did God Create the Devil?
Rescue from Above
A Colossal City In Space
Keys for a Happy Marriage
Written In Stone
and so many more.
Each guide is designed to lead readers step-by-step to a proper understanding of Bible doctrines. They are so easy to use that you'll actually have fun using them!

So get them now for your own outreach needs or as part of a church-wide effort. The possibilities are endless and the results are eternal!